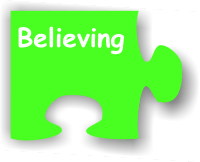 When Peter walked upon the water the story is often told about his failure. How he "looked at the boisterous waves and doubted." We forget that this man for albeit just for a minute or two 'walked on water.'
I'm going to ask you to lean back in your chair for a moment take your hands of the keyboard and just let this soak in…….
Imagine what a thrill it was for Jesus to see this man finally get it. God almighty must have cracked a grin from ear to ear and the angels were whooping and hollering I'm sure. And Peter; he must have been so thrilled for that short time, so set and confident in the words that he had been taught that he was standing on liquid, a physical impossibility.
Matthew 19:26
But Jesus beheld them, and said unto them, With men this is impossible; but with God all things are possible.
The promises of the word are yours and mine if we will do one thing; Believe.
It's harder than it sounds I know but it doesn't have to be. God is the same God to you and me as He was to Peter, as He is to all. You can increase your believing and enrich your life and bless others with just a few simple steps.
#1 Read the word daily

Romans 10:17
So then faith cometh by hearing, and hearing by the word of God.
If you skipped the other 4 this would be plenty I'm sure. You have to have the word in your head to have the word to believe. Get into it.

#2 Resolve that you want to please God

Hebrews 11:6
But without faith it is impossible to please him: for he that cometh to God must believe that he is, and that he is a rewarder of them that diligently seek him.
Simple enough, you need faith (believing) to please God, so now that you know where and how to get it, let's start pleasing.

#3 Don't look at the circumstance that the world presents. Look at the promise God gives.

Matthew 14:28-30
And Peter answered him and said, Lord, if it be thou, bid me come unto thee on the water.
And he said, Come. And when Peter was come down out of the ship, he walked on the water, to go to Jesus.
But when he saw the wind boisterous, he was afraid; and beginning to sink, he cried, saying, Lord, save me.
Peter looked at the circumstance and forgot the promise. Don't you do it, you just get stubborn if you have to and take God at His word.

#4 Constantly remind yourself of the promises

Romans 12:2
And be not conformed to this world: but be ye transformed by the renewing of your mind, that ye may prove what is that good, and acceptable, and perfect, will of God.
This is not a onetime thing. The 'ing' at the end of renew lets you know it's continual. The world is ALWAYS throwing things up in your face and you must be vigilant in replacing that bogus information with the truth of the word.

#5 Hang out with others of a like mind

2 Corinthians 6:14
Be ye not unequally yoked together with unbelievers: for what fellowship hath righteousness with unrighteousness? and what communion hath light with darkness?
Sometimes this can be so hard. Friends, relatives and co workers can destroy your believing with just a few choice words. No need to be an isolationist but make sure you get to places where people can support you and build you up,
God loves you; He wants nothing but the best for you as you walk, learn and grow. Take time to give place in your heart for Him and you will see the heavens break out in song and God Himself will crack that grin, just for you.