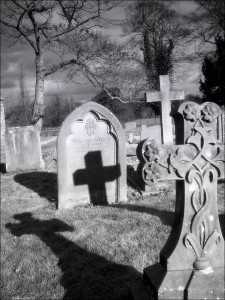 We all want to be remembered in life especially after we're gone. I don't know of anyone who's being totally honest that say's. "Just forget about me, my life was meaningless."
The truth is even rotten people are remembered after they die. Books are filled with the likes of the Hitler's, Stalin's and truly evil people and we read and form our opinions which are usually not good about them. What if Adolf came back? Remember Scrooge who got to see what people thought of him, he didn't like it very much and in the play he got to do something about it. Hitler and everyone else who dies, do not get that chance.
Ecclesiastes 9:10
Whatsoever thy hand findeth to do, do it with thy might; for there is no work, nor device, nor knowledge, nor wisdom, in the grave, whither thou goest.
Not to long ago my brother in law passed away. He was not evil nor a bad guy but he wasn't real warm and fuzzy either. I thought for sure his funeral would be a handful of relatives and perhaps an old friend and no more. It turned out however that the room was packed with people coming to grieve and remember this man. So many positive comments were said and funny stories recalled. I was amazed at the love this man had in his life that surrounded him and I wished somehow he could know that. He couldn't of course.
I have been to other funerals however where it was a lonely and sad affair. Forced eulogies and words of comfort hung in the air but the love and loss was not apparent.
We only get this life to make our mark, this chance at living to give our all. Yes there is another life but so much of the richness we'll enjoy their depends on the time spent here and how we live now.
I would never want you or I to live this life to gain the approval of others however; your life should shine as a glory to God and His son Jesus Christ. Are you giving your all for His highest? Does God smile and say "this is my beloved son or daughter in whom I am well pleased"?
God loves you so much; he wants the very best for you. So much so that he gave His son to die for you and me. So much so that He raised him from the dead to assure a path to eternal life. His word declares that we are to love one another and to be good to one another. Even though you aren't living to please others you will do just that when you are living to please God.
Your eulogy will be one of great joy and respect and be counted as a great loss for the body in Christ for this life; but will be of great reward and honor in the next.
Make your mark; determine your heart to love. You may not know exactly how and it may take time but God will honor you with grace and spiritual abundance to make each day better.
Psalm 6:5
For in death there is no remembrance of thee: in the grave who shall give thee thanks?
When it's over, it is over. Live now, aim high and make your mark.