I love sports, any kind of sport where the competition is fierce and the players are giving all as if their lives depended upon winning.
That said, I can't tolerate cheating and you can disregard the entire first sentence if we are talking about 'youth' leagues.
I followed both my boys through the years and went to almost every game or event they were ever in. My youngest is 15 so he still plays youth leagues but this will be his last year and then it's on to strictly school athletics as he'll be too old for the teams in our area.
For the past 6 weeks we've gone to his basketball games and practices and it's great to see how far he and his team mates have come. They've been together for 4 years now and they really are beginning to gel.
During the years I do as any parent and call out with encouragement to my son and the other players. "Nice Shot 23″ I yell; or "defense", call me crazy but it's my way to help.
One thing I never do or can I put up with very well are negative calls from parents to the ref's or bad mouthing the other teams players. I've seen more and more of that lately and just 2 weeks ago it got really out of hand and the resulting actions were something I wish never happened.
Romans 12:8
If it be possible, as much as lieth in you, live peaceably with all men.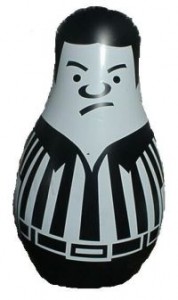 There was a man just 2 rows in front of me calling out to the referee's every time the boys came down the court. He wanted them to call this foul or that travel and just wouldn't let up. This was no ordinary parent however; he was an official in this league and coach. Ordinarily that is no problem since it's a small town league we can use all the help we can get. The dilemma however is that the ref's doing the game actually took heed to this guy and the game became a lopsided foul fest. Feeling happy with himself I guess, he now decided it was time to direct his comments to the crowd behind him and my son, #23 out on the court. The crowd did not like it and began to be more vocal and I did not like the comments toward my son so I began to stew.
Ephesians 4:31
Let all bitterness, and wrath, and anger, and clamour, and evil speaking, be put away from you, with all malice:
Let's just say I was having a hard time with that one. Finally this man directed a comment and I couldn't stop myself. We exchanged words and before I knew it he was beating his chest in wrath and wanting to "take it outside." He went on and on and I did help him along cutting him with an 'old man tongue' that hasn't come out in years. I realized this had gone pretty far off the cliff and that I had been suckered into a no win situation. Now what was I going to do to resolve it? Could it be resolved?
I'd like to say I believed God for divine intervention and wisdom so sweet came rolling out of my mouth that the entire gym stopped and gave glory to God. No, that didn't quite describe it. Instead I belittled him a little better than he could me on his maturity level and he eventually sat there quietly with steam coming out of his ears.
Most of the crowd patted me on the back and I don't believe there was anyone who didn't hear at least part of this. But I didn't feel like the winner. At the games end the chatter was buzzing all about, just like back in school when 2 kids were going to fight and word got around faster than an email forward. Nothing happened and again I was vaunted from other disgruntled parents who wished they had been the ones who did this. I wish they had been too.
The next week we didn't have a game and I was glad for that but I thought about it quite a bit and wondered why and how this happened. I told the story to different people and everyone agreed that I was right (except my wife.) They praised me for standing up to a bully and were happy to hear every detail. The human mind is a wonderful thing and mine was saying all the selfish things it could to let me know I was completely right and he was so wrong. The few times I thought clearly I never felt good about it but never resolved to do very much else.
This morning we went to the game as we always do and I sat in the front row. As if by design this man was our referee for the game and he trotted up and down the court past me about 100 times chasing the ball and doing his job. We never once made eye contact and he did not call a single foul on my son and very few on anyone else. The other ref did however and my son ended up with 2 for the game.
After the buzzer went off and the team gathered for their post game
talk I sat nearby the huddle and waited for my boy. I felt a tap on my shoulder and it was the man with whom I had words. He extended his hand, no not to punch me but to shake it and offered his apology. He said;"I apologize for my UN Christ like behavior the other day and I'm very sorry." This took me by surprise and I quickly let him know that I too was at fault and also apologized. Just that quickly it was over and he walked away.
This time after our encounter I only got 2 pats on the back, one from my wife who said she was happy this was over and the other from the man who's son also plays on our team. He simply said "that's how it's done," smiled and patted my shoulder. This man is a good guy but I'm not sure if he's a Christian and if I were to ever witness to him perhaps now he'd be more apt to listen whereas before this I'm not sure I'd even listen to me.
God is still working with me I guess but I see that this small display across the gym away from everyone else was louder than any shouting match I could have had. Although I was treated like a hero by so many in the first go round it didn't even compare to the peace I felt and the satisfaction knowing that God can turn any situation into a positive when seemingly no one is watching.
I'm sure you may want to know what was wrong with that guy in the first place and why if he was a Christian would he act so. Truthfully I don't care, he could have had a bad day and besides who the heck am I to consider such a thing when I acted no better? In life you can get bogged down with the details and that usually just brings up more questions. In this situation all we needed was an end and in some small way God was glorified because 2 men made peace and perhaps that example will resonate to the only 2 witnesses and strengthen their walk.
For now I'll just praise God and believe to walk with wisdom and thank Him for his mercy and grace when and if this kind of thing comes up again.