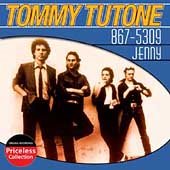 For those of you over say 35 and who listened at all to the radio growing up let me ask you. Do you remember these numbers? I'll give you a little hint. It was a very popular song by Tommy Tutone. Ahhh I think I can see light bulbs turning on all across the web; you got it now right? It was a one hit wonder from 1982 called Jenny. the band never really did anything else of note but even to this day, I and millions of others have these numbers committed to memory.
God would like nothing better than for us to do the same.
1Tim 4:15
Meditate upon these things; give thyself wholly to them; that thy profiting may appear to all.
The context of this is set in verse:13
Till I come, give attendance to reading, to exhortation, to doctrine.
We are to give ourselves 'wholly' to reading, exhortation and doctrine. Notice God didn't say we are to have the 'whole' reading, exhortation and doctrine in us, that would be a tall order. His will is for us is just to get as much as we can in us by giving it our all. My 'wholly' may not be as much (right now) as yours. You may know far more scripture than I but as long as I am committing myself 'wholly' I am in the will of God.
I often am challenged by people who say, "I've read the entire bible so I know, and you don't." When pressed however I have yet to find one who can quote anything of any real substance. They may have read it but nothing sank in. Although reading the whole book may do some good it really wasn't intended to be read in such a way. Exodus by most accounts was the first book of the bible written so it would seem odd if reading from start to finish was the answer that God wouldn't start with Genesis.
My point with this is simple and I'll refer back to the song you now no doubt have going through your head again like old times. You're welcome.

Committing the bible in verses to your memory is one of the best ways to grow spiritually. Not so you can bash people over the head with your new found words but so you can please God and bless people.
If you are faced with a situation with finances for example; it's always great to pray but by putting the word in place of those fiery darts (negative thoughts) you can counter the worlds view with Gods perspective.
Malachi 3:10
Bring ye all the tithes into the storehouse, that there may be meat in mine house, and prove me now herewith, saith the LORD of hosts, if I will not open you the windows of heaven, and pour you out a blessing, that there shall not be room enough to receive it.
Now how's that for dealing with some money troubles? You get an awesome promise and direct instructions on how to receive. God is good.
So, here's a way you can do this very efficiently. Memory cards are sold at just about any Christian book store and they usually are grouped by subject. If you can't find them simply print verses from your computer. This link is only one of many so check it out or search for others. For you 'techies' out there, you can download these same cards to your pda's or other such devices. I don't do that myself but hey I'm the one refering to a 27 year old song, I'm ancient. There are also board games and the like but the important thing is to get the word into your brain and let God work it into your heart.
Break the verse down into halves or thirds and just recite that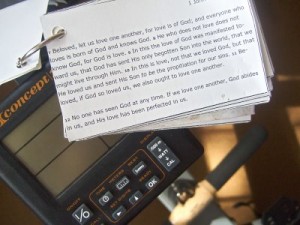 until you have it cold. Move onto the next section now but say the first part before you recite the new part and so on. I personally start from the beginning each time and if I make even one mistake I start over. I'm not done with that verse until I can recite it 3 times in a row without error. With his method you can do 4 or 5 per day which is 20 or more per week. Now do you see how quickly this can add to your growth? At the end of the week do all of them that you've learned and you'll be amazed. Not only that you learned but also at what you learned as God is able to work within you.
To be strong in any endeavor it takes effort and determination; no one said that simply by getting born again you'd have a bed of roses so stick with it and you'll find it gets easier with time.
You are Gods best and he wants you to reflect that in your example to others as you live the abundant life.
God Bless.